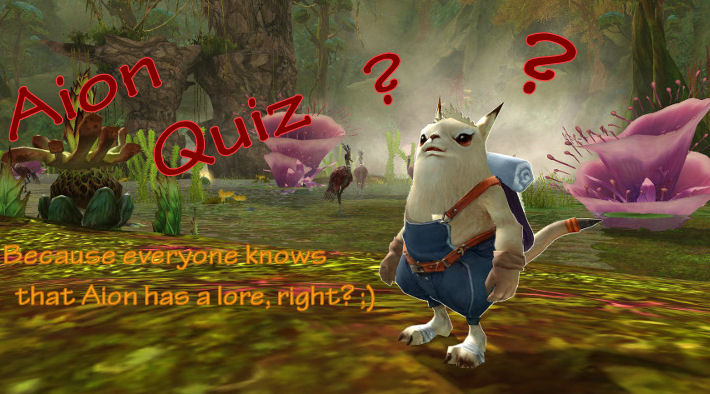 Daeva's Report and Gameforge's CM BlackVelvet are happy to share 10 Aion F2P Beta Keys with EU community! These keys will allow you to join Aion F2P EU Beta, which will take place between 26.01 and 16.02. Furthermore, anyone who will level his/her beta character to 10/20/30 lvl will receive "Veteran" status + 7/15/30-day "Gold Pack" for theirs "main" accounts. [More info about Aion F2P Beta]
Update – COMPETITION IS OVER!!! I won't accept any new submissions! Winners will be announced tomorrow!!!!
Sounds interesting? But, it's not so simple and you have to work a little bit to get it! Daeva's Report made a little competition for you! 😉
COMPETITION RULES
Please note that only EU players can enter this competition!!! Polish players should check >> here << ! (I'm sorry to NA players)
Submission will be accepted until Wednesday, 25th of Januray 2012, 10:59 PM UTC / 11:59 PM CET.
Submission should be sent to

[email protected]

with subject line "Aion F2P Beta EU".
One person = one submission!
Only people with all (6) correct answers will qualify. Then, we will randomly pick 10 winners from all of the qualifying entries.
QUESTIONS
Who welcomes new Daevas in Sanctum / Pandaemonium? (either Elyos or Asmo NPC name, both is not required)
How many Dragon Lords are generally known in Aion's Lore? Write names of all.
What was the name of "shugo MythBuster"?
Who is said to be a "13th Empyrean Lord"?
What race is depicted below?

Correctly identify the location (giving only zone name won't qualifies)

SUBMISSION FORM
Email with answers have to be sent to [email protected] with subject line "Aion F2P Beta EU" and include the following information:
Full real name (won't be published)
Nickname
Email address (beta key will be sent to this email)
Answers to the questions
1) Question x
xxxx answer
List of lucky winner will be public most likely on Thursday 26th January.
We wish all good luck 🙂