Tweet
Beside Eternal Crucible PvP sets with Conditioning 2, in 2.7 also two other PvP armours will be added. They have worse PvP stats (also they can be enchanted only with Conditioning 1) and theirs cost is accordingly lower. There two new series: eternal PvP set with conditioning 1 and fabled PvP set with conditioning 1. The have VERY similar appearance to Tac Officer's Divine or Tac NOC's series, but they differ in the details and colours. Also these two sets differ between each other, but mostly in colour and details on shoulders (eternal one has sash hanging from the shoulder).
Prices of these PvP sets is:

Insignia
Chest /
Shield
Pants
Boots /
Shoulders /
Gloves

eternal 1 lvl conditioning

"normal"
9348
7011
4674
"pvp"
444
311
220

fabled 1 lvl conditioning

"normal"
3895
2922
1948
"pvp"
184
138
92
As we said before, eternal version and fabled version differ in colour and details (eternal one has sash hanging from the shoulder). On the left
eternal version
, on the right
fabled
.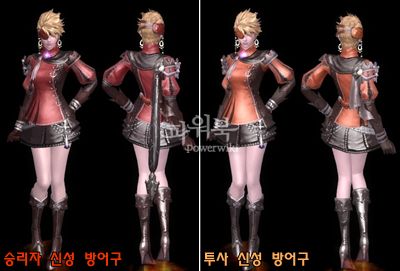 We present appearance of
eternal PvP sets with conditioning 1
, fabled as we know is not much different. 😉
Cloth Set
Leather Set
Chain Set
Plate Set
Shield
---
Daeva's Report allows other websites to re-publish its articles, as long as they put clear and visible information about original source and link to article on Daeva's Report. Otherwise, we reserve the right to oblige other sites to remove the text.
Source: Eternaln PvP armours na Korean PowerBook.