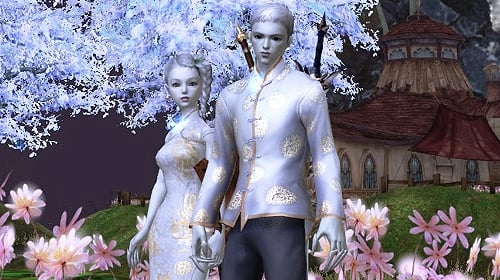 Are you tired of plain appearance of your armour? You plan little role-paying event or you just want to look festively? Nothing simpler! As we all know, much effort in Aion was put to let players customize theirs gear as they want, so it won't be a surprise that you can get / buy special costumes in Aion to look extraordinary!
Most of costumes can be brought from NPCs, some can be obtained as drop from instance or event items. The most important info about costumes is that you can put skin of the costume on any type of armour (it doesn't matter if it's a chain or cloth ect.).
1) One-part costumes – costume is only one-part (chest) and then you wear it will cover all other parts of your gear (for example after wearing costume your shoulders' item won't be visible, but ofc you still have it on).
2) Five-piece costumes – these costumes are "5-piece" sets, and each piece can be used to remodel your gear – it won't "cover" other parts of your gear, they will be still visible (if you use chest piece it will remodel only chest item, rest of your gear like shoulders, gloves ect. will be still visible).
You have to note, that these sets "look-like-cloth", but they are not cloth type of armor (costumes don't have type, so they can be used to remodel all "normal" types of armours like leather, plate ect.). That's why sometimes you can see plate-wearing (or other type-wearing) player, whose gear "looks-like-cloth".