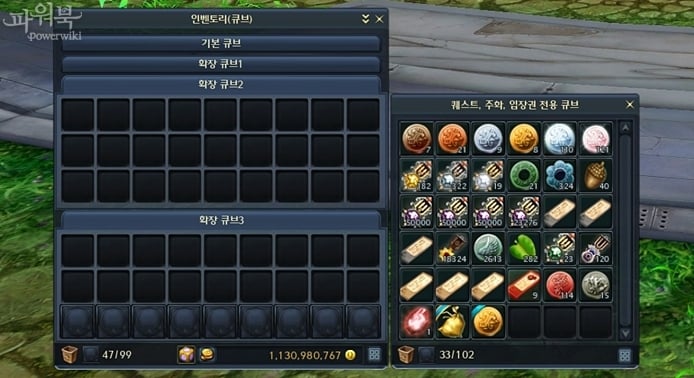 In the latest update of patch 3.5, which went live (26.09.2012) on Koreans servers, developers finally decided to add separate dedicated cube for quest items and other items which always took too much space in your inventory!!!
Check it out! 🙂
Here is list of the items which will be stored in dedicated cube:
Quest items – both items which you got with the quest, as well as quest items you acquire during doing quest
Coins (bronze, silver, gold ect.)
Daily Organizations tokens (Deamon Tokens, Crusader Tokens, ect.)
Kahrun Marks
PvP Medals (Gold Medals, Platinum Medals, Mithril Medals ect.)
Crucible Entrance Tickets
Crucible Insignias (Empyrean Insignias, Courage Insignias, Opportunity Insignias)
Other items, which are collected to buy items (guestpetals, legion medals ect.)
Features of the dedicated cube:
Dedicated cube can store up to 102 items!
You can find dedicated cube icon at the bottom of your inventory.

When you acquire items, they automatically goes to dedicated cube.
It is not possible to move items from normal inventory and dedicated cube.

It's possible to trade items directly from dedicated cube – you simple move item to trade window or account warehouse.

Dedicated cube has it own short / delete icon.

---
Source: Dedicated cube on Korean PowerBook.
Daeva's Report allows other websites to re-publish its articles, as long as they put clear and visible information about original source and link to article on Daeva's Report. Otherwise, we reserve the right to oblige other sites to remove the text.