Podróżując przez Atreię nie raz zdarzy Ci się sytuacja, że Twoje torby będą zapełnione (czy to wyniku zbierania materiałów, quest itemami czy przedmiotami z farmienia) i przydałoby się je powiększyć. Nie każdy wie jednak, jak i gdzie można powiększyć swoje inventory. A można mieć aż 99-slotów! Oto przewodnik jak to zrobić.

Swoją przygodę zaczynamy z jednym bagiem, który posiada 3 paski po 9 slotów, czyli łącznie z 27 miejscami w torbie. Powiększenia torby mogą zostać zakupione u odpowiednich NPC, zdobyte z questa czy w programie Veteran Reward. Kolejność zdobywania rozszerzeń np. (pierwszy od NPC, drugi z ticketu, trzeci z questa) nie ma wpływu na ostateczną ilość slotów w bagach, ani na koszt wykupienia rozszerzenia.
A oto zestawienie możliwości rozszerzeń: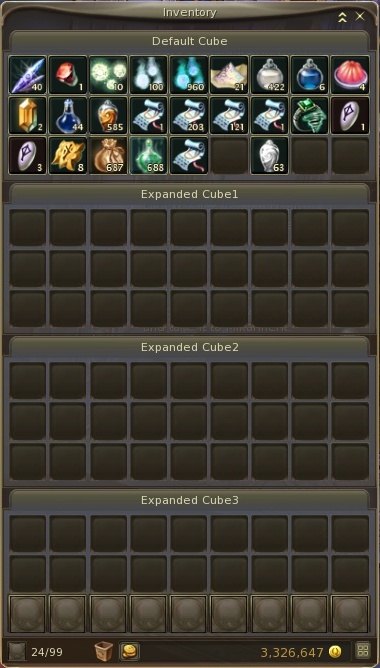 1) Kupowane u odpowiednich NPC (rasa Shugo) (Ceny mogą być inne w zależności od tax obowiązującego w danym momencie w grze):
1 rozszerzenie (28-36 slot): Można je zakupić w pierwszej wiosce za 1k kinah (k = 1000). Dla Elyos będzie to: Poeta – Akarios Village; a dla Asmodian Ishalgen – Aldelle Village (jeśli nie wykupiłeś rozszerzenia w początkowym miasteczku, możesz to także zrobić później w stolicy). Odblokowuje się jeden pasek.
2 (37-45), 3 (46-54 slot) i 4 rozszerzenie (55-63 slot): Można je kupić u NPC w stolicy za odpowiednio 12k, 60k i 120k kinah (k = 1000). Odblokowuje się po jednym pasku.
5 rozszerzenie (64-72 slot): Kupuje się je od Shugo w Upper Abyss, kosztuje 363k kinah, odblokowuje jeden pasek.
2) Za wykonanie questa:
6 rozszerzenie (73-81 slot): Questa dostaje się na 29 levelu (Asmodian: Unexpected Reward; Elyosi: A Lucky Day), od NPC'a w stolicy – znajduje się on w dzielnicy crafterskiej i jest to dla Asmodian – Talon; a dla Elyosów – Demodocos. Quest odsyła nas do Shugo, który powiększa nasze inventory.
7 rozszerzenie (81-90 slot): na 35 levelu odblokuje nam się drugi quest na powiększenie torby, ten jednak jest bardziej skomplikowany (chain quest) – dla Asmodian startowy quest to: Materials for 100-slot Cube, a dla Elyosów: The Legend of Vindachinerk. Chain wymaga od nas zabicia kilku mobów w Beluslan / Heiron, następnie udanie się do NPCa w Upper Abyss, który znajduje się na Black Cloud Island. Znowu należy się udać na polowanie na moby, znowu powrócić do Abyss, na koniec zabić moby w Beluslan / Heiron oraz Morheim / Eltnen. Należy pamiętać, że NPC który daje nam te wszystkie zadania pojawia się w 3 różnych lokacjach w Abyss i do tego, tylko w określonych godzinach!
Tigraki Island
Black Trader Island
Vindachinerk
(pojawia się 01:00-06:00, 08:00-14:00 oraz 16:00-22:00 game time)
3) Veteran Reward:
8 rozszerzenie (91-99 slot): Może zostać odblokowany przy pomocy Expand Cube Ticket, który otrzymuje się jako nagrodę za pierwszy miesiąc udziału w Veteran Rewards Program.